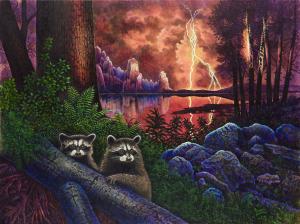 Artist Michael Frank will be exhibiting his new Fantasy Nature Paintings at the Componere Gallery of Art starting October 6th and continuing through November 9th, 2013. Michael is extending his popular "Bird in Paradise" and "Undersea creature" series of paintings, which concentrate on the often overlooked small creatures of the wild. He is also introducing two new series; First: "Jungle Harmony" depicting harmonious life styles of large and small wildlife in a jungle paradise. Second: "Romantique" series which portrays romantic companionships of small creatures in their beautiful natural settings. Each series will most likely transfer the viewer into a warm & joyful mood.
The Preview will be on Sunday, October 6th from 2:00 till 4:00 PM. (Wine & snacks are furnished).
The Reception will be on Friday, October 11th from 6:00 till 8:00 PM (Wine and snacks are furnished).